I have a fridge filled with a beautiful variety of chocolates and a house that smells of peppermint. Do you know what that is like? .... heaven, indeed.
I held the first annual Country Women's Christmas Candy and Advent Candle making event in my cozy cottage this weekend. It was a great success! I believe that it will only get better as the years progress. My dear mother in Law and close friend, Harmony, were with me from the beginning to the end. I am happy to say we also had other women come and go throughout the day. We started around noon and ended after 4:00 in the afternoon. There was never a dull moment and we all had a wonderful time.
The house was filled with the Christmas Spirit as we baked along side one another. The sounds of the season filled the air as an undertone to the stories, laughter, and sisterly encouragement shared between each woman. The tables were spread from one end to the other with baking supplies and eventually platters filled with colorful candies. All ready to be dished up on plates and shared with families throughout the town. Some of us also walked away with a candle stick marked with 12 little cinnamon candy pieces to advent the days leading up to Christmas.
We made 8 different kinds of chocolates. I was lucky enough to find the recipes all online so I can share them with you. Here it goes:
Chocolate Peppermint BarkToffee Peanut ClustersYummy Cracker SnacksOrange Coconut CreamsChocolate Peanut Butter CandyPeppermint Fudge TrufflesHoliday TrufflesCashew Cluster (not online)
Just melt white chocolate and mix with cashews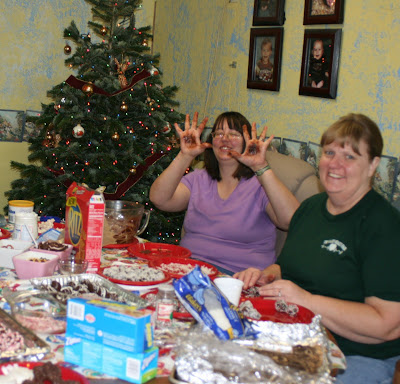 When all of the candy was finished and the women back to their homes, Leif and I finished dishing up individual plates and made little tags for the families who we Home and Visit Teach. We climbed in the car with our boys and delivered all of the candy. It was the perfect way to share the true meaning of Christmas with our children. My hope is that next year more of the ladies will be able to share the gift of giving with their own families at the end of the event as well as my own.