Tonight I found myself pleading with the Lord to help me find the person who has the answers/medication that will heal and balance me to be "well Enough" to care for my loved ones the way I long to. Well enough to care for them consistently without the crashes and lows. Just a steady well enough.
And then I pondered the fact that it
could
be
the plan
for me to struggle so deeply, so much, and so often. This is incredibly hard for me to fathom. Hard for me to even begin to piece together why it is meant for me to have a mind that is so unbalanced and fuzzy. To have a body that is so exhausted. To be well enough just long enough to get on track and then be thrust down again. Why I would be held back from doing good. From serving. From acting on desires to serve. But the truth is, it
could be
the plan. And so I was led to pray for answers. With a hope that My will is HIS will, but a painful knowledge and experience, that sometimes it is not. I began to pray again...
The prayer continued and turned to a plea for the feeling of Joy and peace with
what is
. What I do have, and what I Can Do. I just need to feel a consistent joy, and that can only come from Him. And then I asked a question to Him:
HOW
, do I come to this Joy, even though...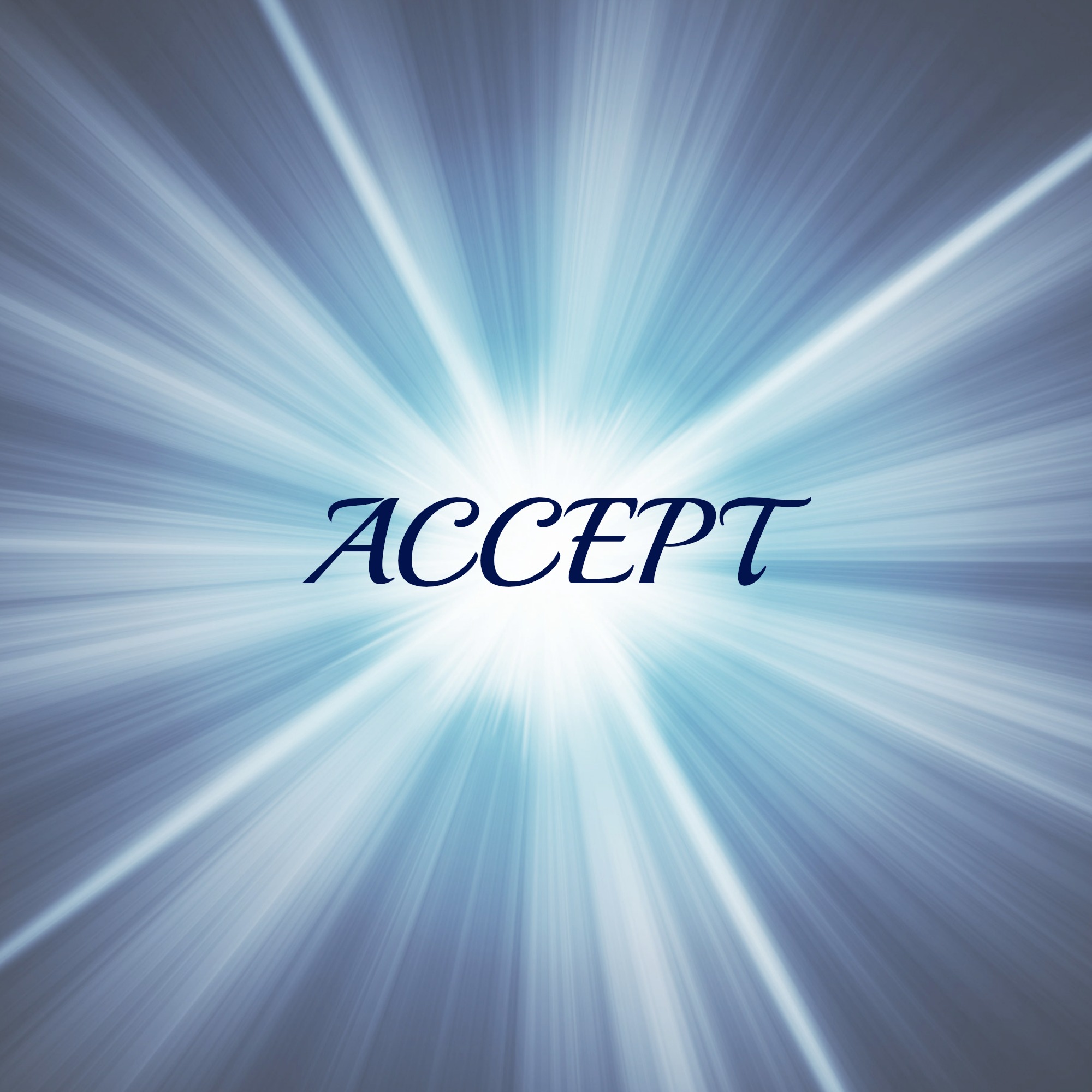 And then the words came into my mind and heart: "Forgive HIM!" .... And the shock! Forgive God!? (Is this blasphemy?) But I knew it had hit home. Perhaps the right word is
accept
. But truth be told, deep down I think I felt wronged. Like my spirit has been wronged by the fact that I can't fulfill what
I see
as my potential.
The dictionary defines the word forgive as: "stop feeling angry or resentful toward (someone) for an offense, flaw, or mistake." And the word accept is defined as: "

to be able or designed to take or hold."
And in reality, both of those words are exactly what I need to do. Carrying a belief that the RIGHT answer will always follow a prayer said in faith. I need to repent of the resentment and take hold of the gift that is my body, and my life. Believing that He, my Creator, has not made a mistake. And I am not disappointing Him in my weaknesses. They are, what they are, and if we apply faith to a weakness, He is able to make them strong in His glory and in His way.
This prayer and its answers were inspired partly after reading these two talks:
BUT IF NOT... By DENNIS E. SIMMONS
Of the Second Quorum of the Seventy April 2004
As a young man, I returned home from an eighth-grade basketball tournament dejected, disappointed, and confused. I blurted out to my mother, "I don't know why we lost—I had faith we'd win!"
I now realize that I did not then know what faith is.
Faith is believing that although we do not understand all things, He does. Faith is knowing that although our power is limited, His is not. Faith in Jesus Christ consists of complete reliance on Him.
So there we have it—it's a test. The world is a testing place for mortal men and women. When we understand that it's all a test, administered by our Heavenly Father, who wants us to trust in Him and to allow Him to help us, we can then see everything more clearly.
Men accomplish marvelous things by trusting in the Lord and keeping His commandments—by exercising faith even when they don't know how the Lord is shaping them.
"Choosing rather to suffer affliction with the people of God, than to enjoy the pleasures of sin for a season;
"Esteeming the reproach of Christ greater riches than the treasures in Egypt. …
"And others had trial of cruel mockings and scourgings, … bonds and imprisonment:
He has the power, but it's our test.
We must have the same faith as Shadrach, Meshach, and Abed-nego.
But if not... LANCE B. WICKMAN
Of the First Quorum of the Seventy October 2004
And so today I wish to speak to all who are struggling in this laboratory of applied faith that is called mortality—and in particular to those bereaved, burdened, and grieving parents who beseechingly ask, "Why?"
First, please know that grief is the natural by-product of love. One cannot selflessly love another person and not grieve at his suffering or eventual death. The only way to avoid the grief would be to not experience the love; and it is love that gives life its richness and meaning. Hence, what a grieving parent can expect to receive from the Lord in response to earnest supplication may not necessarily be an elimination of grief so much as a sweet reassurance that, whatever his or her circumstances, one's child is in the tender care of a loving Heavenly Father.
I offer this as profound conviction born in the fiery crucible of life's experience. Our second son, Adam, entered our lives when I was far away in the jungles and rice paddies of Vietnam. I still have the joyful telegram announcing his birth. Adam was a blue-eyed, blond-haired little fellow with an impish personality. As he turned five years old, Adam eagerly looked forward to starting school. Then a common childhood illness blanketed our southern California community, and Adam contracted the disease. Aside from concern for his comfort, we were not worried. He even seemed to have a light case. Suddenly one morning he did not arise from his bed; he was in a deep coma. We rushed him to the hospital, where he was placed in intensive care. A constant cadre of devoted doctors and nurses attended him. His mother and I maintained a ceaseless vigil in the waiting room nearby.
I telephoned our dear stake president, a childhood friend and now a beloved colleague in the Seventy, Elder Douglas L. Callister, and asked if he would come to the hospital and join me in giving Adam a priesthood blessing. Within minutes he was there. As we entered the small, cramped space where Adam's lifeless little body lay, his bed surrounded by a bewildering maze of monitoring devices and other medical paraphernalia, the kind doctors and nurses reverently stepped back and folded their arms. As the familiar and comforting words of a priesthood blessing were spoken in faith and earnest pleading, I was overcome by a profound sense that Someone else was present. I was overwhelmed by the thought that if I should open my eyes I would see the Savior standing there! I was not the only one in that room who felt that Spirit. We learned quite by chance some months later that one of the nurses who was present that day was so touched that she sought out the missionaries and was baptized.
But notwithstanding, Adam made no improvement. He lingered between this life and the next for several more days as we pleaded with the Lord to return him to us. Finally, one morning after a fitful night, I walked alone down a deserted hospital corridor. I spoke to the Lord and told Him that we wanted our little boy to return so very much, but nevertheless what we wanted most was for His will to be done and that we—Pat and I—would accept that. Adam crossed the threshold into the eternities a short time later.
Frankly, we still grieve for our little boy, although the tender ministering of the Spirit and the passage of the years have softened our sadness. His small picture graces the mantel of our living room beside a more current family portrait of children and grandchildren. But Pat and I know that his path through mortality was intended by a kind Heavenly Father to be shorter and easier than ours and that he has now hurried on ahead to be a welcoming presence when we likewise eventually cross that same fateful threshold.
In the name of Jesus Christ, amen.